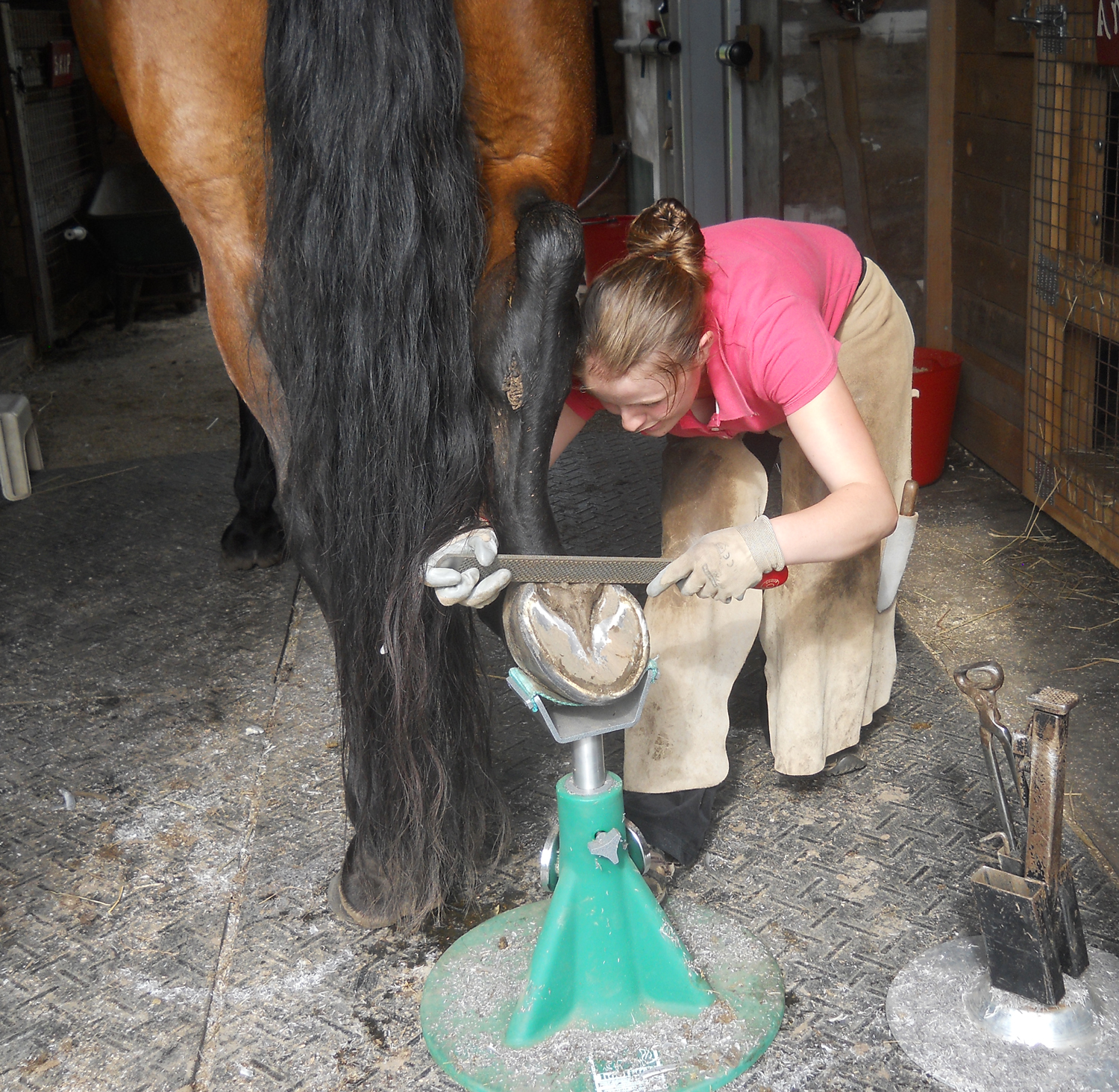 Barefoot Beauty
The bare hoof . . . a wonder of natural engineering.
We have two horses here at Smiling Horse and one at another farm, all of whom are barefoot. Annie, who is 29, did have shoes on for about two years many years ago. It didn't take long to realize that they were not beneficial or needed. Her son Ivan is now 16 and he has never had shoes. Skip came to us barefoot at age eight and was likely so all of his life as he has wonderful feet.
Our barefoot practice is part of a larger 'whole horse' philosophy which also includes a natural diet, free of processed, starchy, grain-based foods and an outdoor lifestyle to promote movement. In order to be at their healthiest, feet need good, basic nutrients, a well-functioning digestive system and constant movement on solid terrain. When all of those needs are met, the hoof mechanism can operate to ambulate the horse in an efficient and pain-free way and do the job of a functioning 'heart pump' to aid circulation of blood and lymph in the horse's body. In addition, helping to keep the horse moving comfortably means better digestion, efficient thermoregulation and fluid management, so the functioning feet are a critical component of several integrated systems that result in superior health and vigour. Our horses have always been sound, comfortable, calm and colic-free with this approach.
As far as activities go, they have no trouble on the varied terrain in their paddock, in our sand arena, gravel yard or traversing gravel road shoulders. They have a regular trim from a certified Equinextion trimmer and are free to move around on varied surfaces, including 2-3 inch round rock, in their living space and they do have a good tear now and again - even through some areas with larger rocks and boulders and jumping over things! Our trimmer also provides advice on lifestyle for healthy hooves and has been a great resource in helping us to improve our 'whole horse' approach.
We are so accustomed to barefoot now that we usually don't even think that it is anything different from what everyone does. Pictures of horseshoes look like antiques because we haven't seen them in years. We see the benefits of barefoot for the horses every day - natural circulation with the fully operational hoof mechanism and "heart pumps" that are in the feet - elimination of concussion caused by metal - excellent traction - surefootedness (they can 'feel' their feet - Annie used to trip in shoes - possibly her feet were numb). Their feet are much cleaner and less likely to be infected with thrush as they don't accumulate the grunge that tends to stick in shod feet - they repel dirt clumps with every step. Other benefits include - well, it's more economical as the trim is less expensive than buying shoes - reduction in herd injuries as they are less likely to hurt each other when 'horsing' around in the paddock - great traction even on ice (and we KNOW ice here) - no need for corks or pads - no inconvenience of pulled shoes - peace of mind as we just feel so much better knowing that they are comfortable with the natural feet and mechanism that nature gave them. They are all sound and able to function on a variety of terrains.
A popular saying here - "There is no need to fix it if it ain't broke!" Their natural feet work just fine - no metal required.